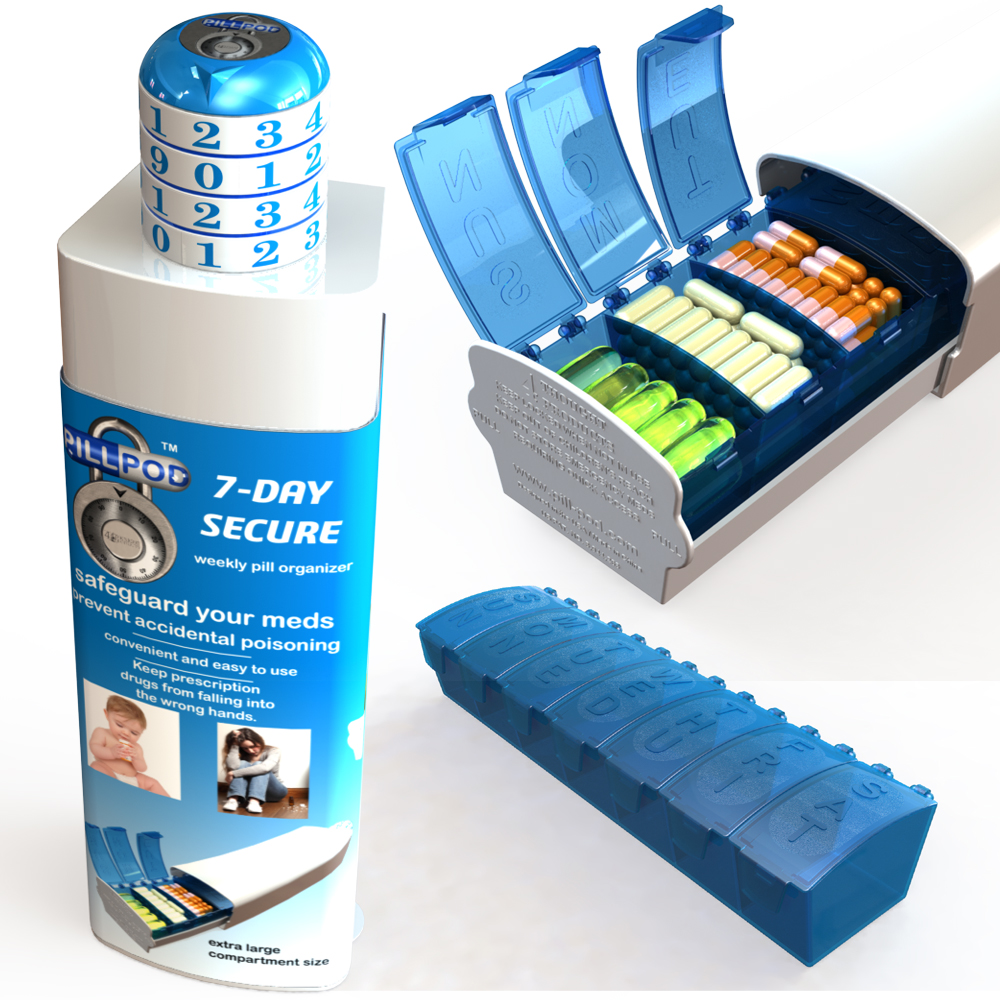 Pill Pod 7-Day Secure ™ locking pill organizer is an affordable, convenient, and easy to use medication safety solution for every home. Our child resistant pill organizer / drug lock box provides peace of mind and keeps pill organizers / minders, Rx drug vials, as well as cannabis and edibles / gummies, from falling into the wrong hands. If you have prescription drugs or cannabis products in your home, you need to secure them in a medication lock box, Pill Pod 7-Day Secure ™ is the solution – where "an ounce of prevention is worth a pound of cure" – lock up your Rx medications and cannabis products in a child resistant pill organizer. No product can ever be considered child proof. Our Rx lock box / cannabis lock box is an affordable solution for use in every home. California law, Assembly Bill No. 2859, requires pharmacies that dispense Schedule II, III, or IV controlled substances to display and have available safe storage products. Pill Pod qualifies as a locking storage container that can be offered to meet this requirement.
Pill Pod 7-Day Secure™ child-resistant pill organizer accommodates our extra large pill 7 day pill organizer and can help prevent accidental poisoning of children. It acts also to help prevent drug diversion is a simple and effective solution to prevent problems from initiating. If however, you have someone with an existing addiction living in your home, this may not be the proper product for your needs. This medication lock box was intentionally designed without mounting features – which allows you the freedom to store it, move it, or hide it wherever you like. Unfortunately no drug lock box on the market, including this one, (even ones with mounting screws, strong adhesive tape, or steel cables, etc.) – will prevent an addict or thief from tearing it out, prying it open, or removing the box altogether to get drugs they want. If this is your situation, you many need invest in and install a regular high security steel safe –something solidly anchored into the floor boards. Trying to hide your drugs (as opposed to leaving them open in the medicine cabinet) is better than doing nothing at all, but is not an effective solution as an addict will eventually seek out and find them.
"Keepin' it Real" … simple that is
We kept the end user in mind. Pill Pod 7-Day Secure™ locking pill organizer is so simple to use that it needs no instruction sheet. It comes ready to use with no setup required. Like a padlock, Pill Pod combination locking container comes with a random, preset, 4-digit code assigned and provided on the outer label. With the combination aligned beneath the marker, you can slide out the tray. That's it! There is something elegant about simplicity, don't you agree? Our tumblers have large, easy to read, numbers that rotate easily – important for those with vision impairment, arthritis, or dexterity problems. Its compact size allows it to store it where you find convenient, or take along when traveling.
Security
Pill Pod 7-Day Secure™ (with US Utility Patents) has been engineered with and uses thicker wall, high grade / impact resistant ABS plastic that provides an effective and affordable product solution. Don't be "put off" by plastic, thinking that it might lack security or strength, as appearances can be deceiving. It has substantially better security than aluminum drug lock boxes.
Size/Capacity
The number of bottles it can secure depends on bottle sizes. If all are small bottles (13 dram), it can hold up to 6. With a typical mix of bottle sizes in can generally hold 3 to 5. It can also accept some liquid cough syrup bottles as well as insulin supplies. It can be stored in a refrigerator. Alternatively, you could use it as a portable locking medicine chest. Each of the extra large compartments can easily hold more than a 30 day supply of most pills, meaning that you could store and safely travel with a months supply of 7 different medications!
How Safe are Child-Resistant Safety Caps – Study by Safe Kids Worldwide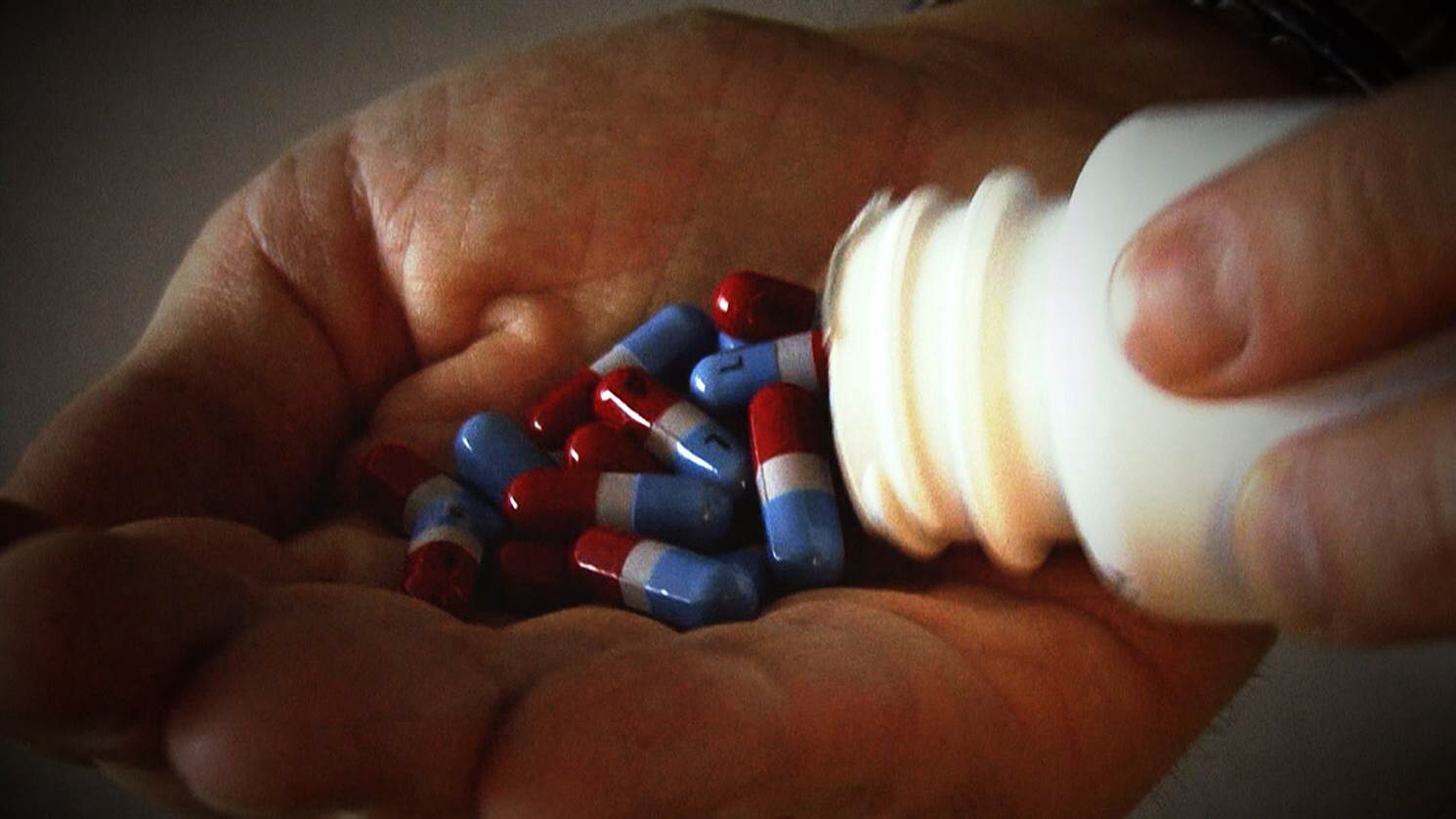 Edibles… and You Think Joe Camel was a Bad Idea?