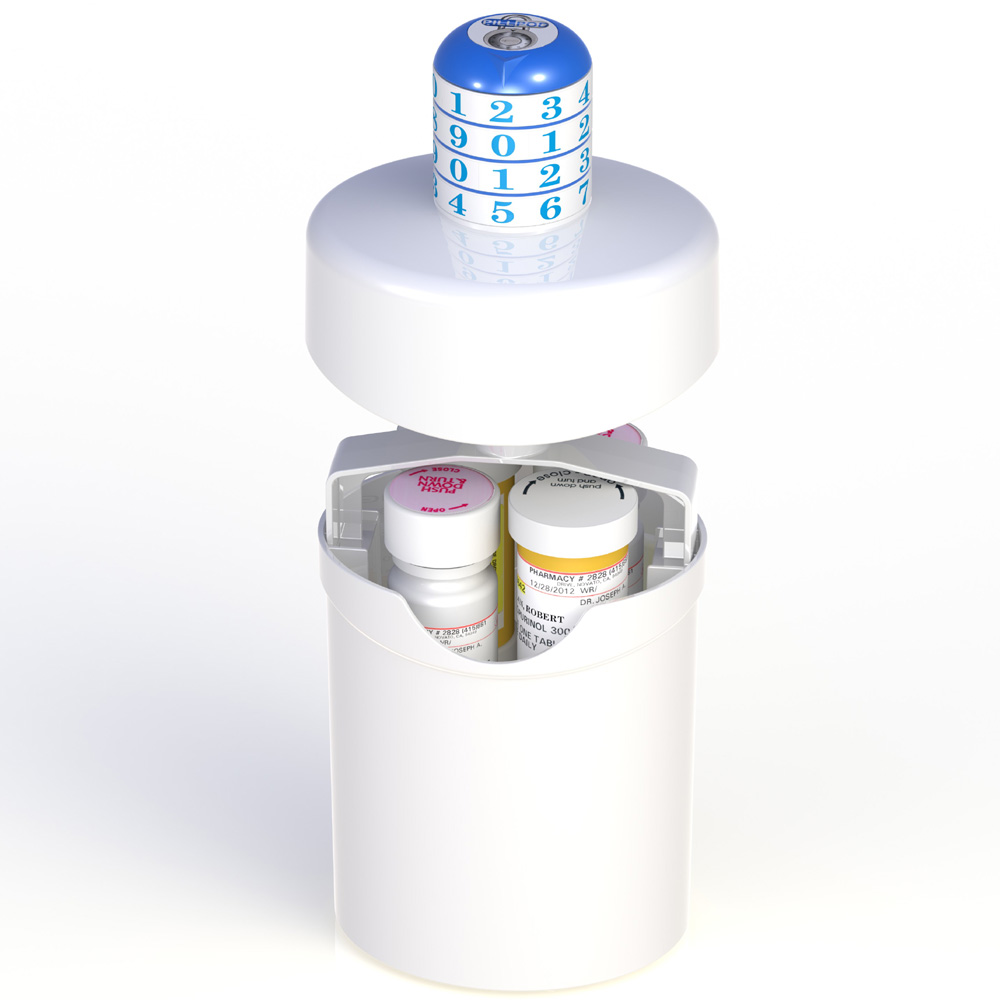 Specs:
Weight: 8.2 ounces; material: impact resistant ABS polymer

Outer dimensions: 4-1/2" width x 4" depth x 8-3/4" overall height

Inside capacity dimensions: 4" width x 3-1/2" depth x 6-1/8 height

Can secure a maximum of 8 smaller pill bottles – 13 Dram vial size (1.5″ diameter x 2.7″ height). Capacity will vary depending upon bottle sizes being stored.

Maximum bottle diameter it can accept is 2-1/4″.

Accommodates taller liquid medication bottles (2.5″ width x 1-3/4″ depth x 6″ height)

Also can store insulin supplies & may be kept refrigerated.
Features:
Key-less entry
Preset combination / no set up required
Pick resistant tumblers, security feature
Compact size – store in standard 4″ deep medicine cabinets, bathroom or kitchen cabinets, closet shelves or drawers
Durable construction – no hinges that can easily break
Tamper evident
Portable size for travel use
Design blends with bathroom and kitchen decors
Security:
Pill Pod™ has been designed as a deterrent to unauthorized access of pharmaceutical drugs.
It is manufactured in strong, durable, impact resistant ABS polymer.
Pill Pod™ is neither "unbreakable" nor should it be considered a high security Rx drug safe or narcotics vault.
It provides a moderate level security and is intended for use where no pre-existing drug addiction or theft problem is present.
Design:
This unique patented device was engineered "on a clean sheet of paper."
Pill Pod™ Medication Lock Box is a fresh approach and completely new design for a locking medication case.
It bears little resemblance to and functions differently than a traditional rectangular hinged drug lock box.
Benefits:
Restricts access to pharmaceutical drugs, marijuana, and cannabis edibles by unauthorized persons.
Provides easy and convenient use for the prescribed patient.
Accepts various sizes of pill and liquid Rx bottles, insulin, syringes, and packaged items.
No keys to misplace or loose. Locking mechanism has built in pick resistant features.
Tamper evident construction – any attempted break-in can be easily identified.
Engineered utilizing structural plastics design for maximum strength and durability.
Provides an economical / affordable solution for use in every home.
Provides a fresh modern industrial design that integrates well with bathroom and kitchen décors